Welcome to our latest challenge here at Sweet Sketch Wednesday 2.
This month not only do we have 2 more brilliant sketches for you but also we have a fabulous new sponsor, but first let's have the winner and top 3 from our last challenge sponsored by Cute as a Button.
Our winner chosen by Mr Random is


No. 6 Margreet

with this lovely card
Please email me at anne_ssw2@aol.co.uk to claim your prize
Our Top 3 in no particular order are
4 Lisa Lynn
12 Nana Connie
14 Carla
Congratulations to all our winners, please don't forget to pick up your badges from the sidebar.
Now onto this months challenge.
Our fabulous new sponsor is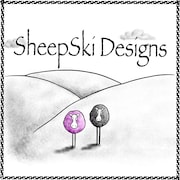 We are so happy to have Andrea sponsor us, she has so many wonderful and varied designs in her Etsy Shop
Andreas own inspirational Blog is at
and a challenge blog can be found at
We have 2 more brilliant sketches from Kathie again this month for you to use
and here is what the Design Team came up with.


Firstly our Guest Designer Silke using Bumble Bee Blossom
AJ used
Penguin Pals
and
Bumble Bee Blossom
Kathie used
Fuschias
and Penguin Pals
Kelly used
Penguin Pals
and Penguin Pals again
and Anne used
Fuchsias
and Penguin Pals
You have a little under 5 weeks to enter this month so plenty of time to join in which we hope that many of you will.
Best wishes
Anne and the SSW2-DT