The warmest of welcomes to our December Challenge. We are so happy that you could join us at what is for many a very busy time of year.
Thank you for all the wonderful entries to our November challenge sponsored by Bugaboo
Our winner is entry no. 25
That was Suze with this card
Please send an email anne_ssw2@aol.co.uk
Our Top 3 in no particular order are
11 Olga B
26 Heather Mills
29 Aimeslee
Please take your badges from the sidebar
This month we are sponsored by the fabulous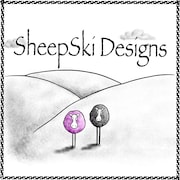 We are so happy to have Andrea sponsor us, she has so many wonderful and varied designs in her Etsy Shop
Andreas own inspirational Blog is at
and a challenge blog can be found at
https://sheepski-designs-challenges.blogspot.com/
We have another pair of sketches from Kathie
Silke is here with her final card as Guest Designer.
Thank you Silke for all your inspiration.
There will be another opportunity for a 4 month Guest spot soon.
Onto the rest of the design team
We do hope that you will be able to find the time to play along with us this month.
This challenge will run to the 31st of December but we'll be back before then with a bonus challenge.
Anne