Hello and welcome to our latest challenge.
Thank you for your lovely entries last month using our unconventional shapes.
Our fabulous sponsor this month is Andrea at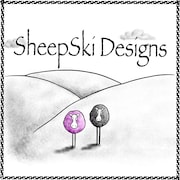 We are so happy to have Andrea sponsor us, she has so many wonderful and varied designs in her Etsy Shop and we all enjoy creating with them.
Andreas own inspirational Blog is at
and a challenge blog can be found at
This month's sketches designed by Kathie are
Sketch 216
Sketch 217
First I will share a card from our Guest
Designer this month which is
with this beutiful card using Cornflowers
Now here is some inspiration from the design team
Kelly using Masked
and Penguin Pals
Olga using Cat
and Determination
Doris using Lilly
and Wild Flower
Anne using Freesia Vase
and Stack
Kathie using Buttercups
and
Freesia Vase
We hope that you enjoy this months sketches and look forward to seeing your creations.
Best wishes
Anne
You are invited to the
Inlinkz
link party!